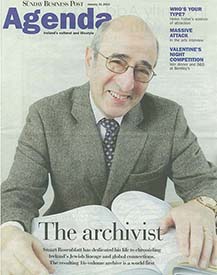 Lecture Availability
---
Stuart Rosenblatt is the foremost intellectual mind on Irish Jewish genealogy. He has dedicated the last 18 years to this work of Irish genealogy research . The Irish Jewish Genealogy Society is solely managed and steered by Stuart, which is a division of the Irish Jewish Museum.
The dedication and knowledge pool he has amassed over the past 18 years, is truly a wonderful resource work for mankind. He has authored 19 volumes and has written the inspirational, charismatic, humorous book, " The Yidiot's Guide to Irish Jewish Ancestry". The volumes of genealogy books having been developed by his own bespoke written software, being The Carousel genealogical research program. This program is daily updated with the latest figure being 52,067 individual records, whom have an association to Ireland, both ascendants and descendants. These souls are now scattered around the globe, tracing back into every country of the world.
This Irish Jewish roots genealogy program, has given long lost loved ones peace of mind, found happiness for many many families, bringing together loved ones with distant memories and thoughts of whose roots where and had not only been found but the further tree as a discovery tool, thanks to Stuarts ongoing dedication.
Stuart has the ability to convey the most complicated research details in an easy straight forward with an, ease of understanding. This is an exceptional quality.The ability to set the mood, to engage his audience brings a finesse few speakers portray, humility.
As we know Irish humour prevails and carries a sensitive insight around personal requests for adoptive information, explaining the lost families and children who have one Jewish parent, insightful aspects being some of the more interesting facts of his engaging seminars.
Stuart is available as a pre booked speaker, for seminars, open speaking, at most intellectual conferences, colleges, schools, private venue arrangements, club associations, corporate or social clubs, society organizations. The inspiration and dedication of his subject matter is offered at a most plausible arrangement of absolutely no fee for his booking, except the basic expenses, covering his travel arrangements, accommodation including meals, for the duration of his attendance being usually 1 or 2 days within Europe.
He is also available for live or recorded radio interviews especially if there is a live phone in. (Skype is a marvellous invention)
Lecture circuit USA !!!
A Journey Of Discovery
---
Over the past twenty years or so, Jewish communities around the world have become increasingly interested in their European ancestry with many visiting the lands once inhabited by thriving communities which had existed for many centuries.
For many, this journey of rediscovery is often very painful and traumatic as the full evils of Ha-Shoah or Churban Europa are still vividly present throughout mainland Europe, not merely monuments to the millions who perished, but an enduring testament to life and survival. This journey is essentially one of survival, not just of the Holocaust, but of centuries of pogroms, discrimination, banishment and wars.
The history, heritage and legacy of Jewish Europe or, if you prefer, European Jewry, stretches beyond those areas of the continent that were engulfed by the madness and human misery of the holocaust or devastated by the earlier tsarist pogroms. In fact, we must not forget that our contribution to European history touched all parts of the continent over many, many centuries.
However, one aspect of that long history that is frequently overlooked is the fascinating story of the western migration of Eastern European and Russian Jews to Great Britain and Ireland in the nineteenth and early twentieth centuries. Whilst the Jewish presence is Great Britain is well documented and therefore, largely accessible to researchers around the world, Ireland is a totally different story, only now being revealed in detail.
Stuart Rosenblatt, a Dublin based genealogist and social historian, has amassed an enormous collection of the archival heritage of the Irish Jewish Community spanning approximately three centuries and containing details of over 52,000 (04/2014) individual records. He has collated this information in nineteen huge bound volumes which he has donated to the National Library of Ireland, the National Archives of Ireland, the Genealogical Society of Ireland and the Irish Jewish Museum in Dublin.
This unique project has taken Stuart nearly twenty years and brought him to every city, large town and county in Ireland in the quest for the archival heritage and history of the Irish Jewry, many of whom, spent only one or two generations in Ireland before moving on to North America or further afield. Their short sojourn in the Emerald Isle is frequently unknown to their descendants – a story untold.
Stuart Rosenblatt is now the unrivalled international authority on the history and heritage of the Irish Jewish Community and, in particular, on their archival heritage. Stuart has lectured extensively in Ireland and Great Britain on his research and on the archival heritage uncovered during two decades of painstakingly meticulous and dedicated genealogical research.
The potential application of the fruits of Stuart's work is becoming widely appreciated by academics, genealogists and other researchers, many of whom, have invited him to deliver lectures, seminars and workshops on Jewish Genealogy, Irish Jewish History or on the wonderful archival heritage itself.
Stuart's passion for his work is an inspiration to all and indeed, his deep appreciation and love for the archival heritage that he uncovered is wonderfully infectious. He always endeavours to make himself available for academic conferences, genealogical events and radio or television interviews, for which, he asks no appearance fee, save travel and subsistence for attendance.
Stuart may be contacted by e-mail at : srosenblatt@irishjewishroots.com
Stuart is delighted to be of service to all and may be contacted at details provided.